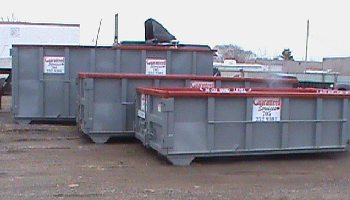 There are multiple types of businesses that have projects that result in debris that needs to be removed from a property. Commercial waste bins are the best way to keep your project sites tidy and moving along efficiently. If you have a landscaping company with a big tree and brush removal project or a contractor doing renovations, your best source for commercial waste bins in the Stayner, Ontario area is Guaranteed Services. We have a wide variety of sizes to suit your needs, and we are happy to help you select the right size and type.
It is easy to book commercial waste bins. Just give us a call, and we'll take a deposit to reserve the commercial waste bins you want. We then deliver them on the day that works for you. Our rental rates are based on up to 6 nights at your location. When you have filled the bin or you are finished with it, just call us back, and we'll pick it up and dispose of the waste for you.
One of the main reasons why you'll love coming to us for your commercial waste bins is our affordable rates. When we provide you with a quote, that is what your final bill will be. We don't tack on charges later for fuel, administrative or environmental fees like you may have experienced with other bin rental companies. If you are ready to get a quote for commercial waste bins for your project or have any questions, don't hesitate to contact us.