There are times when you are having dirt and other fill materials delivered to your home or job site, but then there are times when you have far too much because of an ongoing project and need it gone. Here at Guaranteed Services, our dirt removal bins are the solution! Rest assured that we dispose of the soil legally and in compliance with waste disposal regulation. Here are a few instances in which our dirt removal bins can come in handy.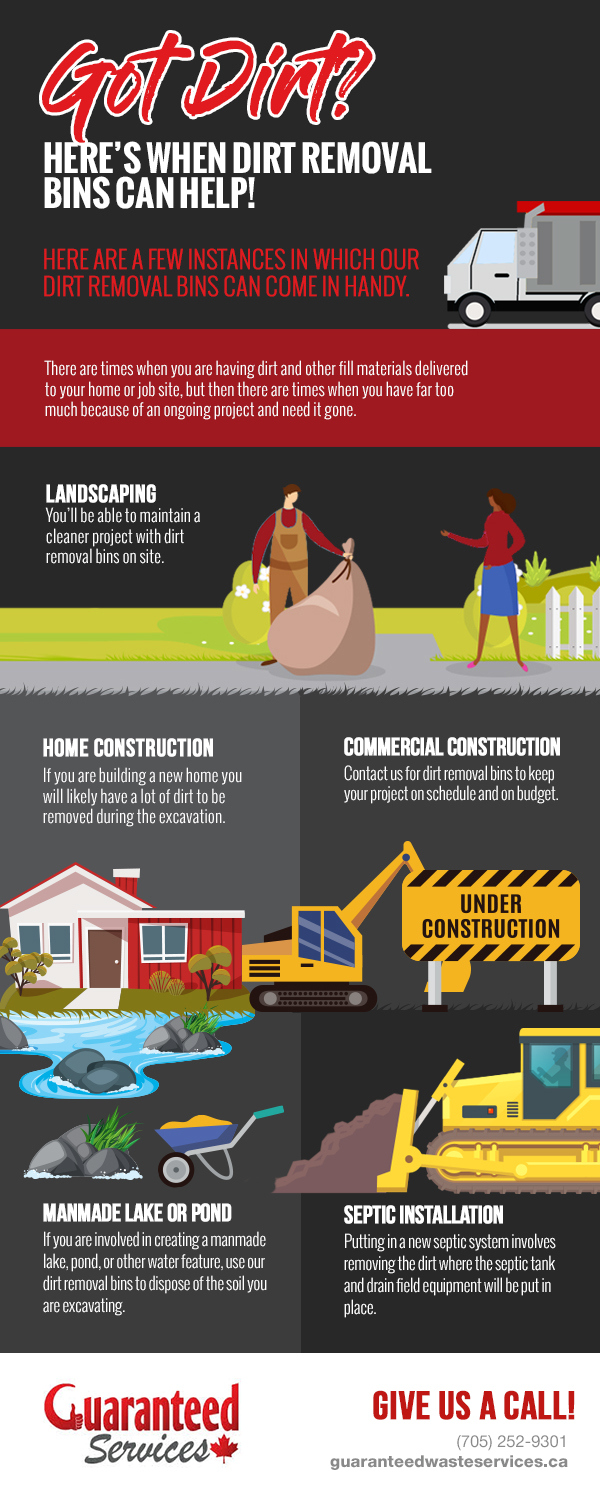 Landscaping- A large landscaping project can mean lots of extra dirt, particularly if you are planting trees or shrubs, or putting in hardscape materials. You'll be able to maintain a cleaner project with dirt removal bins on site, making it easier to work and keeping your customers happy.
New Home Construction- If you are building a new home for a customer who has requested a basement, you will likely have a lot of dirt to be removed during the excavation. Our dirt removal bins are an ideal solution. We can set you up with several for the task or come pick them up as they become full, bringing a new one with us.
New Commercial Construction- It is typical for commercial building construction to entail a vast amount of excavation to put footers and foundations in place and perhaps even underground levels, such as a parking garage, basement for utilities, and so forth. Contact us for dirt removal bins to keep your project on schedule and on budget.
Manmade Lake or Pond- From ponds for agricultural use to large lakes for planned communities, if you are involved in creating a manmade lake, pond, or other water feature, use our dirt removal bins to dispose of the soil you are excavating.
Septic Installation- Putting in a new septic system involves removing the dirt where the septic tank and drain field equipment will be put in place. Our dirt removal bins give you a place to put the dirt so that it isn't creating a mess in the yard.