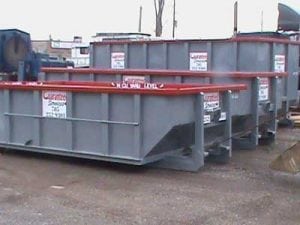 Any construction project will generate waste materials. Without a place to put that trash, your project could be stalled by having to clean up messes multiple times, or by having to haul away the garbage yourself. At Guaranteed Services, we want to help your project go smoothly from start to finish, and we offer commercial waste bin rental services to make that happen. All the trash from your project can go into the bin, and we'll take it away and dispose of the contents for you when your project is complete.
When you're ready to secure commercial waste bin rentals for your next Stayner, Ontario project, give us a call. One of our dedicated team members will consult with you about the location, scale, and expected duration of your project, as well as the type of materials you will need removed from the premises. This information will allow us to choose the right size and number of bins for your project and will factor into your quote. We always strive to keep our prices fair, competitive, and affordable.
The next step in the rental process is to schedule a delivery time. We maintain flexible hours to work with your scheduling needs, and we are committed to punctuality. When our team members arrive to drop off your bins, they'll work with you to choose the best spot to place them and if needed, will add a cushion of wood under the bin's contact points to prevent damage to your property. The bins will remain until your project is complete, at which point, you can call us to schedule a time to pick them up. Then we'll take the bins away and dispose of their contents.
If you're ready to secure commercial waste bins for your next project, call our team at Guaranteed Services today.