As you start your search for a dumpster to rent, you will notice that there are several different varieties available. In addition to the various sizes, some will be open-top roll off dumpsters, while others have closed tops or don't roll. The open top and the rolling both create advantages, making this particular style of dumpster ideal for nearly every situation.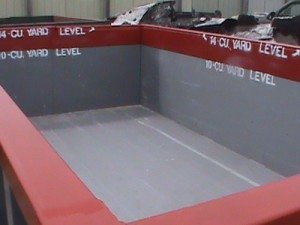 When using open-top roll off dumpsters, you will quickly notice how convenient the lack of a top is. You don't have to try to lift the lid of the dumpster with one hand while throwing the garbage inside with the other like you would with a lidded bin. Even if you swung the lid on a dumpster back and left it in place, it would take up extra room. Open-top dumpsters, on the other hand, never take up extra space, since they don't have lids, and you can easily put items inside with ease. They can also be filled up to a higher point than closing dumpsters, although it is still not recommended to overfill the dumpster.
The rolling nature of open-top roll off dumpsters gives them another huge advantage in terms of mobility. Any container will be heavy enough so you probably can't move it easily by yourself or even with one other person, but roll-off ones make life a bit easier. They are simpler to reposition on your property if you decide you put them in a bad spot.
If you have any questions about the open-top roll off dumpsters we have to rent, give us a call at Guaranteed Services.