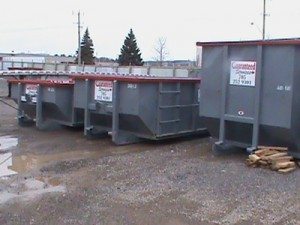 When you are gearing up for a renovation project, don't overlook the amount of waste that your project is going to produce. Dumpster rentals are a great way to stay on task and complete the project at hand without having to stop and take trips to the dump or clean up messes twice — everything just goes into the dumpster, and we'll take it away at the end. Here are 3 reasons that will have you convinced you should use dumpster rentals for your next renovation project.
1.  Temporary. Most of us aren't eager to keep a large dumpster on our personal or commercial property, but during a remodeling project, you will produce far more waste than you normally do. Dumpster rentals are perfect as a temporary solution to the larger amount of waste you'll be throwing out during the project. Our dumpster rentals are available for any duration of time you need, so you can use the dumpster as long as you'd like, and we'll haul it away when your project is complete.
2.  We will dispose of your waste. Making trips to the dump is time-consuming, especially if you don't have the right equipment or live far away. As part of your dumpster rental, we agree to bring the dumpster to your property and pick it up when you are finished. We will dispose of the waste for you– no further hassle is necessary! It's simple and will save you countless hours of hauling waste.
3.  Varying sizes available. We have several sizes of dumpster rentals, so you can choose a size that fits the needs of your project. You won't have to overpay for more space than you need, but you can still have all the convenience of using a dumpster rental.
At Guaranteed Services, we will simplify your renovation project. Let us know when you're ready for us to deliver your dumpster rentals!