We can help you with waste removal for your next cleanup project in Wasaga Beach with roll off dumpster pick-up.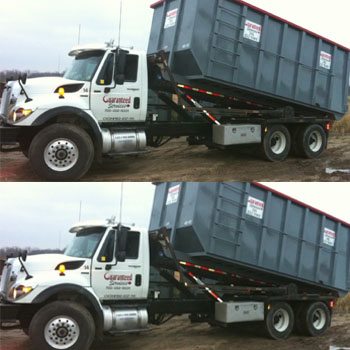 One of the most frustrating parts of any cleanup project is trying to figure out how to dispose of all of the trash that you need to clear out. Whether you are doing a yard cleanup project, getting rid of unwanted items from your home, or working on a construction project, you need somewhere to put all of the waste.  It isn't practical to use a normal garbage can because it will fill up way too quickly, and if you are disposing of large items, chances are they will not fit.  At Guaranteed Services, we have many different sizes of roll off dumpsters and containers that we deliver right to you, and we also offer roll off dumpster pick-up.
Roll off dumpster pick-up is perfect for any project because we handle the pick-up and removal of all waste that you have.  We have containers of all different sizes and have something that will work for both big and small projects. We drop the dumpster off onto your property and will pick it up for you when you're finished. We will take care of any type of waste disposal for you, and we even have the capabilities to dispose of hazardous waste materials. We have different fees for different types of waste and will discuss all options with you in advance.  We also do not have any hidden fees that will take you by surprise.  We offer fair and upfront pricing, so you know exactly what you will pay for our services.
If you are interested in roll off dumpster pick-up in Wasaga Beach, Ontario, contact us today at Guaranteed Services. We will work with you to find the perfect container for the size of your project.  We can answer all of your questions and will give you a fair and reasonable price. Don't let waste removal be a problem for you; we will handle everything!
---
At Guaranteed Services, we offer roll off dumpster pick-up in Barrie, Innisfil, Elmvale, Midland, Angus, Orillia, Wasaga Beach, Midhurst, Coldwater, Shanty Bay, and Craighurst Ontario.