We offer a variety of waste containers that are perfect for any project you are working on in Wasaga Beach.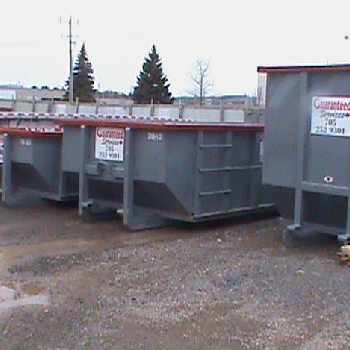 When you are working on a big project, it is likely that you will have a lot of waste that you need to dispose of.  Whether you are working on a small home remodel or a large scale construction project, you will have a lot of big, bulky items that you need to get rid of, and a standard garbage can will not cut it. At Guaranteed Services, we have several waste containers available for rent to help you with all of your waste disposal needs.
We have several different types of containers available to rent.  We have mini bins, roll-off dumpsters, construction waste containers, landscaping waste containers, and many more. We are sure that we can help you find the best containers for the project you are working on. We also have several different sizes of containers, so we can help you out, no matter what size of a project you are undertaking.
At Guaranteed Services, we know how to really make renting waste containers easy for you.  First we will talk with you and figure out which type of containers will work the best for you.  We will then determine what size you will need for the project. We make it a point to give our customers a price that does not include any hidden fees, and we will go over pricing for the containers with you, so you will know the exact cost.  Once this has all been determined, we will set up a time to deliver the containers to you.  We will take care to make sure the waste container is stable and will not damage any concrete or asphalt.  When it is time, we will come and pick up your waste container and take care of disposing all waste.
Contact us at Guaranteed Services, and we can discuss all options for different containers available to you for your waste disposal needs in Wasaga Beach, Ontario.  We can find the perfect solution for you to help you get rid of all unwanted trash and debris.
---
At Guaranteed Services, we offer rentals of containers in Barrie, Innisfil, Collingwood, Orillia, Wasaga Beach, Angus, Stayner, Shanty Bay, and Midhurst, Ontario.