Using our roll off dumpsters in Innisfil saves your vehicle from wear and tear from hauling junk to the dump.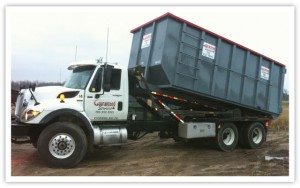 Many of us don't have the equipment necessary to be hauling large amounts of junk to the dump during a large-scale remodeling or construction project. At Guaranteed Services, we offer roll off dumpsters to residents in and around Innisfil, Ontario to give you a way to get rid of junk and trash during your remodeling project or any other construction job you have planned.
Even if you do have a truck to haul away large amounts of trash, it will be a huge strain on your time to take frequent loads to the dump when the bed of your truck gets filled up. We have various sizes of roll off dumpsters, so you can find a size that works for your job. We will drop off the dumpster and pick it up again when your project is complete, which will save you hours of time in labour. When you're in the middle of a big construction job or other project that produces a lot of trash, the last thing you want to do is worry about the trash. Our roll off dumpsters take that worry out of the equation. Simply throw any trash into the dumpster, and we'll take care of the rest!
The other great thing about using our roll off dumpsters instead of your truck is you don't have to worry about damaging your vehicle. Our dumpsters are made of heavy-duty metal and will withstand scratching and abuse from unwanted trash being thrown in them. If you use your truck to haul away junk, you run the risk of your vehicle being damaged– not to mention the miles and wear and tear you'll be putting on your truck to drive back and forth the dump.
Contact us today to learn about our pricing for our roll off dumpsters. We look forward to serving you!
---
At Guaranteed Services, we offer roll off dumpsters in Barrie, Innisfil, Elmvale, Midland, Angus, Orillia, Wasaga Beach, Midhurst, Coldwater, Shanty Bay, and Craighurst Ontario.
Similar Services We Offer: