We are proud to serve clients in Barrie, ON with all of their needs for roll-off bins and waste removal.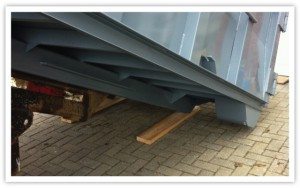 Roll-off bins are an excellent way to get extra waste disposal capacity on your job site. There are several important calculations you need to make before ordering roll-off bins. Knowing the answers to these questions is guaranteed to save you time, money, and frustration over the life of your project.
First, determine how long you will need the roll-off bin. Our default time period is six days, but we can be flexible depending on your needs.
Next, determine what type of waste will be put into the bin. Some hazardous or potentially dangerous materials aren't accepted in trash cans or roll-off bins; make sure you're aware of and following the rules and regulations regarding disposal of potentially hazardous materials in your area.
Last but not least, determine where the bin will need to go, how large it could comfortably be, and how much clearance it will require on either side. Knowing these measurements will aid you in selecting the proper size bin, as well as the reasonable payload and total capacity of each system.
At Guaranteed Services, we are proud to serve clients in Barrie, ON with all of their needs for roll-off bins and waste removal. We're happy to help you figure out precisely what will best fit your needs, and we offer punctual and speedy drop-off and pick-up for all of our clients in order to help you with your various projects. For more information, contact us today— we'll be happy to assist you!
FAQs About Roll-off Bins
One of the best things you can do on a Barrie, Ontario job site is keeping it tidy. You can avoid injuries and avoid delays using roll-off bins for safely contained waste. This statement is as accurate for a small DIY project as it is a large construction project. At Guaranteed Services, we make it easy with our rental roll-off bins. We will always address any questions that you have, but here are a few common ones to get you started:
What types of projects can I use your roll-off bins for?
You can use our roll-off bins for just about anything! Some examples include, cleaning out a garage or attic, DIY home renovation projects, commercial construction sites, landscaping cleanup projects, cleaning out an abandoned rental property or storage unit,
roofing material disposal
, disposal of excess goods when downsizing, and so much more. If you run into an asbestos situation, ask about our asbestos hauling specialty service.
How do I pay for renting roll-off bins?
A deposit is due when you reserve roll-off bins. The balance is due when our driver places the container on your property. You should reach out to us to process your payment using Visa, MasterCard, or cash beforehand should you be unable to be present at delivery. If you extend the rental period or otherwise incur additional charges, the fees are due at that time.
What sizes of roll-off bins do you have?
We have 10-cubic yard, 14-cubic yard, 20-cubic yard, and 40-cubic yard roll-off bins available for rent.