Open-top roll-off dumpsters come in a variety of sizes and have many advantages for larger projects.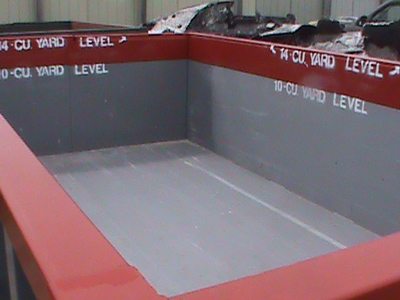 Starting a new project comes with a lot of exciting new challenges! Whether you are getting ready for a major remodel or need to work on some serious de-cluttering, our team here at Guaranteed Services wants to be there for you with the right containers and dumpsters that you need in the Angus, Ontario area. If you are embarking on a new project, you likely are working with a lot of different contractors and are wondering what dumpster is right for your needs. We offer many different sizes and options when it comes to containers, including open-top roll-off dumpsters.
Open-top roll-off dumpsters are generally larger dumpsters that are meant for larger amounts of debris. This could be anything from an entire-home renovation to a complete overhaul on yard work. One of the features that makes open-top roll-off dumpsters ideal for these types of projects is that their large, open tops make it easy to toss debris into– even if you are working from a second-storey property.
Our open-top roll-off dumpsters can be situated anywhere on your property for easy access. Because we here at Guaranteed Services both deliver and pick up, you don't have to worry about moving your container once it is full—we'll take care of that as part of our services. If you aren't sure what size of open-top roll-off dumpster you need, don't worry– we can help with that, too! Because we have been working in this field for so long, we have more than enough experience to find the dumpster that will be just-right for your needs.
For questions or tips about choosing the right container for your next project, contact us today!
---
At Guaranteed Services, we offer open-top roll off dumpsters in Barrie, Innisfil, Elmvale, Midland, Angus, Orillia, Wasaga Beach, Midhurst, Coldwater, Shanty Bay, and Craighurst Ontario.