You have a full plate with your Orillia project. Let our waste disposal solutions help you stay focused on the more important things.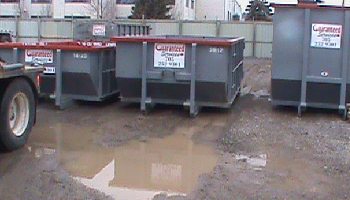 At many times in our lives, we relish the thought that if only it were possible to have a clone, things would be so much easier. If you feel that way trying to juggle a renovation project and make trips to take care of the demolition and debris materials, you should know that here at Guaranteed Services, we offer waste disposal solutions that will keep you on the job site.
With our bin rentals, construction bins, roll-off dumpsters, and other waste disposal solutions, you won't have to worry about what isn't going right at your project while you are away. Not only will you save the money on fuel and disposal fees, but you could save a ton if something has gone wrong on the site and has to be redone. Our waste disposal solutions in Orillia, Ontario put everything together into one affordable price. Our staff works with you to determine which size and type would be best for your project. Then, we deliver it when it is convenient for you. When the bin is full or you are finished with the project, just call us and we'll come back to get it and get the waste disposed of for you.
Wouldn't it be nice to not have to worry about how to get all that waste to go away at your project site?  Don't use your valuable time that would be better spent elsewhere. Call us today to learn about waste disposal solutions that make sense – no clone necessary.
FAQs About Roll-off Dumpster Delivery
Though our frequent customers are often contractors who are familiar with the types of services we offer, we understand that not everyone knows what to expect from roll-off dumpster delivery. That's why we are more than happy to answer a few frequently asked questions below and make sure you have all the information you need. If you have additional questions, go ahead and contact our team to learn more.
What kinds of projects are your waste disposal solutions suitable for?
Our roll-off dumpsters, mini bin rentals, and other waste disposal solutions are suitable for a variety of projects. If you're a contractor, we can provide you with a dumpster that will hold your construction debris. If you're a homeowner doing DIY renovations or landscaping, we can provide the bins for the demolition materials or yard waste. Our waste disposal solutions are also great if you're moving out and you need to get rid of a large amount of junk.
How does the scheduling, delivery, and pick-up process work?
If you're ready to request one of our waste disposal solutions, you can contact us, find out which bin is right for your needs, and then put down a deposit. From there, we'll deliver your bin at the scheduled time and then pick it up to dispose of the waste when you're done with the bin.
What sets you apart from other businesses offering waste disposal solutions?
Beyond the quality of our bins, which are painted regularly and in excellent condition, we set ourselves apart by being organized. We'll make sure you get the waste disposal solutions you need when you need them.
---
At Guaranteed Services, we offer waste disposal solutions in Barrie, Innisfil, Elmvale, Midland, Angus, Orillia, Wasaga Beach, Midhurst, Coldwater, Shanty Bay, Stayner, and Craighurst Ontario.