We make junk removal easy when your regular garbage cans or bins just aren't big enough.
Have you ever started a junk removal project only to realize that your regular garbage cans or garbage bins just aren't big enough for your needs? Contact us at Guaranteed Services. We make junk removal easy at your home or business in Midland, Ontario. With our large dumpsters (which come in a variety of sizes ranging from 10 cubic yards to 40 cubic yards), we are sure to have a container suitable for your current project or needs.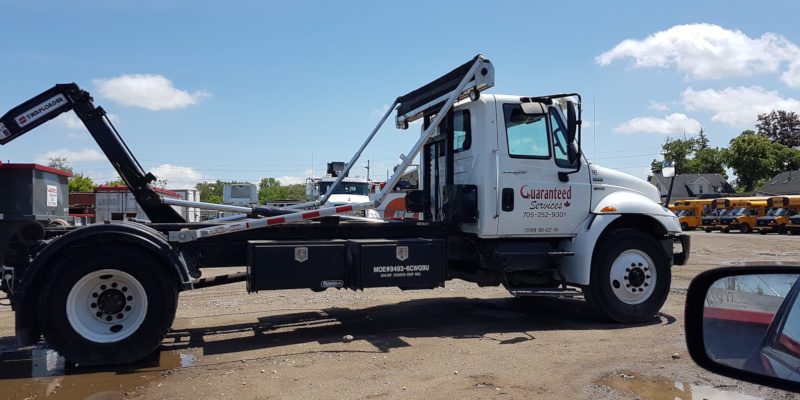 If you are tackling a serious junk removal project, you want to make sure all the junk is eliminated and no materials are left over, but you also want to protect your property from damage. We will discuss careful placement over the phone, making sure there is a suitable place for us to position your dumpster temporarily. We also protect your property by placing wood under all the dumpster touchpoints. We want your property to look great when you finish your junk removal efforts.
We have worked with homeowners, business owners, contractors and more. Our quote process is easy. We just need to know where to deliver your dumpsters, the size and number of dumpsters you want delivered, the type of waste you will be placing in the dumpsters, when you want them delivered, and when you want them picked up. Generally, we can do all that over the phone. Don't hesitate to call if you are in the middle of a junk removal project and realize you need help.
FAQs About Junk Removal
We understand that not everyone has hired a junk removal service before. If you are among this group, we're here to provide you with a bit more information so you'll know what to expect when you give our team a call. Below, you can find the answers to some of our frequently asked questions. You are also more than welcome to give us a call or fill out our contact form if you have additional questions.
How much does junk removal cost?
We recognize that the cost of junk removal may be a concern for you. Generally, the cost of junk removal depends on a variety of factors that are unique to each job, so we won't be able to give you an estimate unless we know the details of your project first. Contact our team today so you can tell us about your needs, and we'll come up with an accurate quote for you.
How can I find out what size bin I need?
The size of bin you need will depend on how much junk you have to remove. If you're not yet sure how much junk you need us to haul away from your property, give us a call, and we'll discuss it with you. We know what questions to ask to best determine your needs before we recommend the correct bin size whether it's 10, 14, 20, or 40 cubic yards.
Will it take long for the bin to arrive at my property?
We do our best to deliver the bin to your property quickly, so you won't have to wait long to proceed with your project. We can give you a more specific estimate on timeline when you talk to us.