One aspect of our business that sets us apart from others who offer waste disposal solutions in Barrie, ON is the customer service that we provide.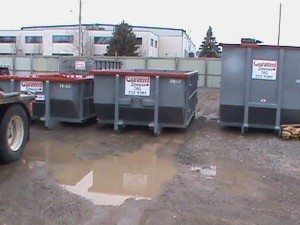 When it comes to storing and removing trash and debris from a commercial or residential renovation or construction job, avoid the headache of dealing with it yourself by calling us at Guaranteed Services. Transporting and disposing of waste is a messy and sometimes unpleasant job, but our team has experience and will do it quickly and efficiently. Our services are especially useful for construction companies or those who are completing renovation projects and need a short-term solution to store the trash that comes from the project. Our waste disposal solutions are customized to meet your needs.
One aspect of our business that sets us apart from others who offer waste disposal solutions in Barrie, ON is the customer service that we provide. We start by discussing details with you, such as the projected length of time you will need the dumpster and size of the project to make sure you have a container that will meet your needs. Our team members will then deliver the container and set it up in a designated space at the job site.
After you finish the job, we will then come back to the site and pick up the dumpster. Part of our service includes disposing of the waste it contains, so you can say goodbye to trips to the dump or figuring out what to do with waste containers in between projects. Contact us today to learn more about our waste disposal solutions, so you can focus on the job at hand.
FAQs About Our Waste Disposal Solutions
Here at Guaranteed Services, we offer the expert waste disposal solutions you need. If you have questions about our services, keep reading to learn more about how we can help you.
What should I expect from your waste disposal solutions?
When you turn to us for waste disposal solutions, we will first take the time to discuss your needs and help you select the right container. Once you've made a decision, we will drop off your container and set it up at a spot of your choice, placing wood palettes under all the touch points to prevent the weight of the dumpster from damaging your lawn, driveway, parking lot, or other surface. When you are finished with the container, we will return to pick it up and dispose of all the waste inside.
What are your waste disposal services used for?
There are a variety of situations that require waste disposal solutions, but the most common uses for our services are dealing with construction waste and junk removal. In other words, if you are planning on renovating your property or clearing out a garage, etc., we encourage you to give us a call.
Can you dispose of hazardous waste?
Our general waste disposal services are not designed to handle hazardous waste, so if you need to deal with mold, bodily waste, or similar, you will need to find more specialized assistance. However, we do offer waste disposal solutions for dealing with asbestos, so if you find asbestos insulation or other materials on your property, you can turn to our team to get the help you need.
---
At Guaranteed Services, we offer waste disposal solutions in Barrie, Innisfil, Elmvale, Midland, Angus, Orillia, Wasaga Beach, Midhurst, Coldwater, Shanty Bay, and Craighurst Ontario.