Instead of becoming overwhelmed by trash, contact us for information about home renovations waste disposal in Barrie, ON.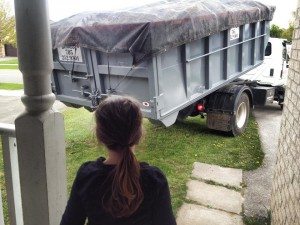 Taking on a home renovation project can be both exciting and overwhelming. Updating one or more rooms in your home can help to drastically increase the value of your property, and with so many TV shows and online resources about do-it-yourself projects, taking this type of work on doesn't have to break the bank. However, one thing to think about before you start your project is where you will be putting all of the waste and debris that comes from the old space.
No matter what room you renovate, you will be left with large amounts of trash that need to be disposed of properly. If you have a trash bin or even a dumpster available to you, it might seem easiest to just put the trash in there, but residential trash cans become full very quickly. And if you share a dumpster with other local residents, they probably won't be too happy if you fill it up with your construction debris. Instead of rocking the boat in your neighbourhood or becoming overwhelmed by trash, contact us at Guaranteed Services for information about home renovations waste disposal.
We offer home renovations waste disposal services to those in Barrie, Ontario and many of the surrounding cities. A team member will bring a container and set it up on your property, then take it away once your renovation is complete. Part of the home renovations waste disposal process is emptying the container, as well, which makes it easier for you to complete the job and resume your normal life.
Common Questions About Our Home Renovation Bins
If you're starting a major, or even a minor, home renovation, one thing you need to think about is waste disposal. Below, we've answered a few common questions we receive about renting our bins to dispose of waste during the home renovation process.
What size bin should I rent for my renovation?
This depends on the scope of your renovation and what kind of materials you will need to get rid of. If you need help determining the right size for your bin rental, let us know, and we can help you with this process.
What kind of materials can I put in the bin?
Nearly any kind of building material can go into our bins. However, we ask that you do not dispose of hazardous materials in our bins, including things like paint and chemicals.
How long can I keep the bin?
When you rent the bin from us, let us know how long you will need it for. We will come and pick it up and dispose of the waste in it once you are done.
What do you charge for home renovation waste disposal bins?
We charge a fair, cost-effective price for our home renovation disposal bins. How much your bin will cost depends on its size, how long you need it for, and other factors.
Can you give me a quote for waste disposal bin rental?
Yes! If you would like a quote for a waste disposal bin, simply give us a call.
---
At Guaranteed Services, we offer home renovations waste disposal in Barrie, Innisfil, Elmvale, Midland, Angus, Orillia, Wasaga Beach, Midhurst, Coldwater, Shanty Bay, and Craighurst Ontario.