We'd be happy to talk to you about our construction disposal services in Barrie, ON and find an option that works for you.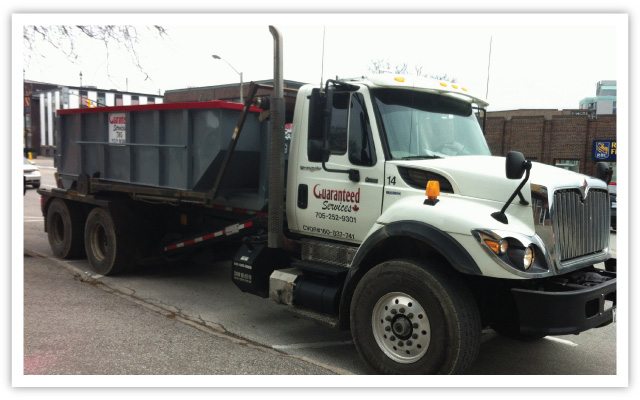 At Guaranteed Services, we offer construction disposal services that will make your life easier as a construction project manager. When you and your staff members work on a construction project of any size, you will need some type of waste container that can store the debris and trash that comes from a construction job. However, once the job is done, you probably won't want to keep the container on site anymore, so you will need someone to come and take it away. Hauling trash and containers to the dump isn't always an effective use of your team's time, since it takes away from time that could be spent on actual construction work that will make more money for the company.
When you contact us at Guaranteed Services, we can talk to you about our construction disposal services and find an option that works for you. Since each of our containers is open-top, it makes it much easier to throw away the waste from the job. We will also bring the container and place it on the property where it is most convenient to the workers. Once the project is complete, we will then schedule a time to pick up the container and dispose of its contents.
How to Choose the Right Construction Disposal Services for Your Next Project
Starting on a renovation or construction project can be exciting! You finally get the chance to take out that pesky wall or renovate that cramped and outdated bathroom. However, construction and renovations come with a lot of waste, and it is our job here at Guaranteed Services to ensure that you have a smooth and efficient jobsite with our construction disposal services. We want to help your project be as wonderful as the vision of your finished results, so here are a few ways that you can choose the right construction disposal services for your next project.
Choose the right sized bin. With a variety of bin or container sizes, you need to pick one that is slightly larger than the one you think you'll need. We have container sizes at Guaranteed Services that will work with construction projects from a smaller, single room renovation to large, entire home or commercial projects. Give us a call if you aren't sure what size to use, and we can get you sorted out!
Time the pick-ups and drop-offs accordingly. Ideally, you should have your construction disposal services scheduled for one day before you are scheduled to start demolition. You might also want to consider having another day scheduled for pick-up in case your project runs a little long.
Watch out for "extra" items! People driving by at night to dump their belongings into your container is an annoying, but commonplace practice. We can work with you to make your container as inaccessible as possible, so you aren't paying to dump someone else's garbage.
If you have questions about our variety of services, including construction disposal services, please give our team a call today!
Roofing project coming up? Schedule your bin delivery
Questions about Mini-bins? This Info Will Help
Get a Look at our Bins and Delivery Trucks
Polite reception, fast delivery and pickup.
"Very polite reception, fast bin delivery and pickup, comparable pricing, quick billing and processing. Highly recommend!!! "
★★★★★ Chris M.
Our construction disposal services are available to customers located in and near Barrie, Ontario. Our team members receive training to safely dispose of all types of construction waste and will make this part of your job much easier, so call us today for pricing.
---
At Guaranteed Services, we offer construction disposal services in Barrie, Innisfil, Elmvale, Midland, Angus, Orillia, Wasaga Beach, Midhurst, Coldwater, Shanty Bay, and Craighurst Ontario.