Our waste disposal services are complemented by professionals who care about keeping your Barrie, ON property in good condition
At Guaranteed Services, we are here to meet all of your waste disposal needs in the Barrie, Ontario area. Whether you have plans to clean out your overcrowded garage or you have a commercial remodeling project coming up, we can provide you with a dumpster rental to make the process go smoothly.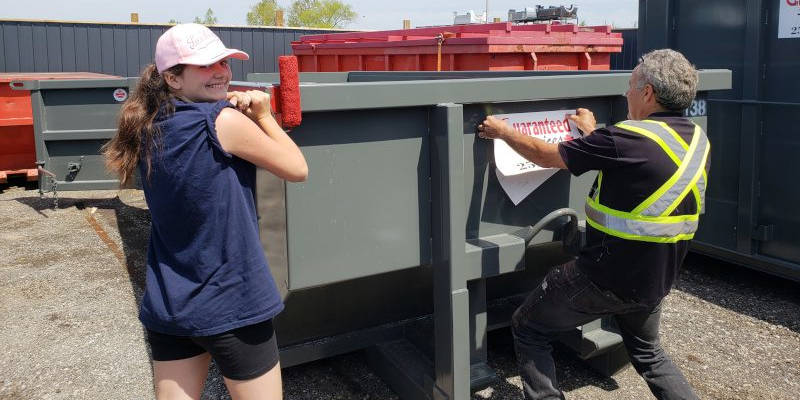 When it comes to junk removal, we realize that you're going to be focused on eliminating the junk from your property, instead of thinking about where all of the leftover materials will go. For this reason, when you work with us, we can drop off a waste removal bin at your property and pick it up when you're done.
Although having a waste removal bin to use during the junk removal process is highly beneficial, we realize that you may be worried about the bin damaging your property. To keep this from happening, we always place wood under the container's touch points. We will also work with you to determine the best spot for placement.
What a wonderful company.
"We had the opportunity to use Guaranteed Services recently, and they were amazing! What a wonderful company that provided great service to my family. We finished up with our bin and called for a second one, and they came to our rescue right away. Thank you, Marty! I would recommend this company!"
★★★★★ Kim N.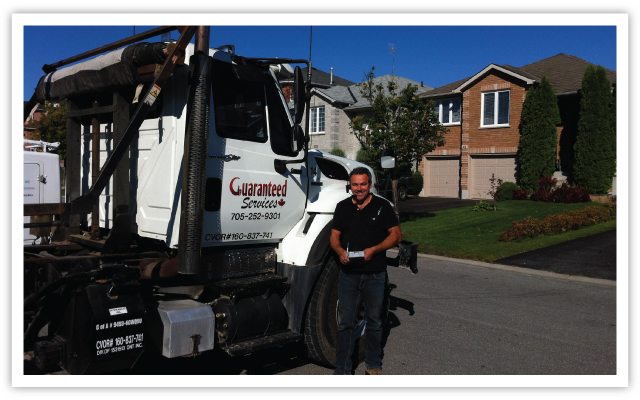 Roll Off Dumpster Delivery
Our roll-off dumpster delivery services are backed by over two decades of experience in the waste removal industry.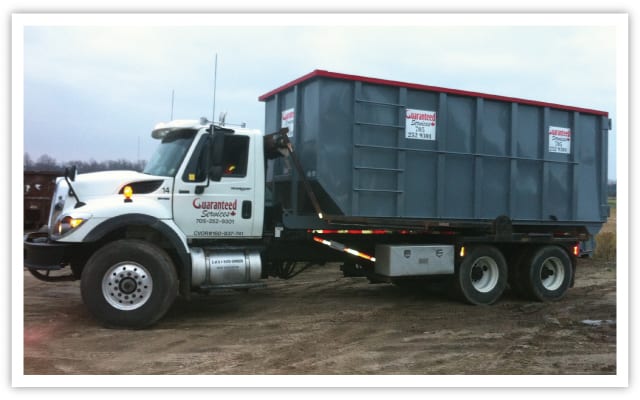 Construction Bins
If you need a few construction bins for your next project, we are here to help.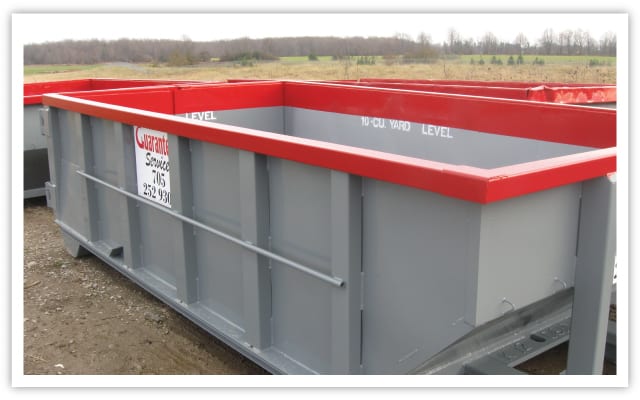 Landscaping Waste Bins
When you rent one of our landscaping waste bins, you can expect superior customer care.
We're here to help you keep your property neat and tidy with our waste removal services.
One of the main benefits of our waste disposal services, however, is that our waste containers come in many different sizes. If you aren't exactly sure which size will benefit your project, we would be more than happy to consult with you.
Please keep in mind that although we dispose of most types of materials, we will not dispose of anything hazardous. We do this to preserve the environment and to protect the people who live in the Barrie, Ontario area.
At Guaranteed Services, we are proud of the fact that our waste disposal services are guided by over a quarter century of experience. If you'd like to know more about how we can help you with an upcoming project and why renting a dumpster from us is advantageous, reach out to us today.
FAQs About Our Waste Disposal Services
Our team at Guaranteed Services is here to help you with all your waste disposal needs. If you have questions about how our waste disposal services work, we encourage you to keep reading to get the answers you need. We have put together the answers to some of our most frequently asked questions below for you to check out.
What type of projects are waste disposal services used for?
There are many situations in which our waste disposal services can be helpful. For example, if you are trying to clean out your garage, or if you are planning renovations, you will need somewhere to put all your junk and waste materials while you work.
How do your waste disposal services work?
When you use our waste disposal services, we will first discuss your needs and help you determine what size of container you need. Then, we will deliver the container to your location and set it up where you choose. To protect your property, we will place wood under all the dumpster's touch points to prevent it from damaging your yard, driveway, or other surface.
What if I need to dispose of something hazardous?
Our general waste disposal services are not designed to handle hazardous waste of any kind, so if you need to remove mold, biological waste, or any other hazardous material, you will need more specialized services. We can provide asbestos hauling services, but you will need to let us know that you require that service so that we can take the necessary precautions.
Why Choose Guaranteed Services
One of the main things that sets our waste removal services apart is the fact that we stand by our prices. When we provide you with a quote, we won't tack on environmental, fuel, and administrative fees later on. Plus, we're so confident that you will be happy with the quality of our services that we won't make you sign a contract.
See what some of our satisfied clients are saying about our waste disposal and other services.
I used this company for a residential bin last month because I used them a couple of years ago, and it went well.Same this time.Bin arrived when I asked and left when I asked.Had to make an additional call to get my invoice sent to me, but no big deal.
Everyone I spoke with was great, helpful. I appreciated the flexibility and would recommend this company. I would not hesitate to order from them again.
Wow, these guys are on top of their game. I called for a bin, they were there very quickly and the delivery guy and pick up guy were excellent professionals. I will be calling this company again. Good job.
I've been hiring this company since it started, and Marty for several years before that. Their service is fantastic, and the prices are always competitive.
The customer service is very good, They solve problems quickly.and the price is very suitable. You have to deposit first,they will give you the invoice after pickup the bin, I get a refund in two days,recommend
Ordered a 40 yard bin for a renovation on my home. Smooth easy process and no hidden fees. Easy to schedule, arrived and picked up on time. Best pricing around. Would definitely recommend and will use again.
Highly recommend! We will definitely use these guys again. Really couldn't be happier with the service, price, communication. Overall a great company to deal with:)
We use Marty nearly every month for our clients demos !Always reliable & reasonably pricedWould highly recommend !- Behold Design
I've used guaranteed services twice and thought both times they were professional, on time, and put wood under the bin to protect our driveway. Were punctual picking up the bin and prices seemed fair. If you're looking for a bin these are your guys!
Our Bin Rentals Can Help You Declutter
Similar Services We Offer: