We will make sure you have the waste removal capacity you need for your project or event in Barrie, ON.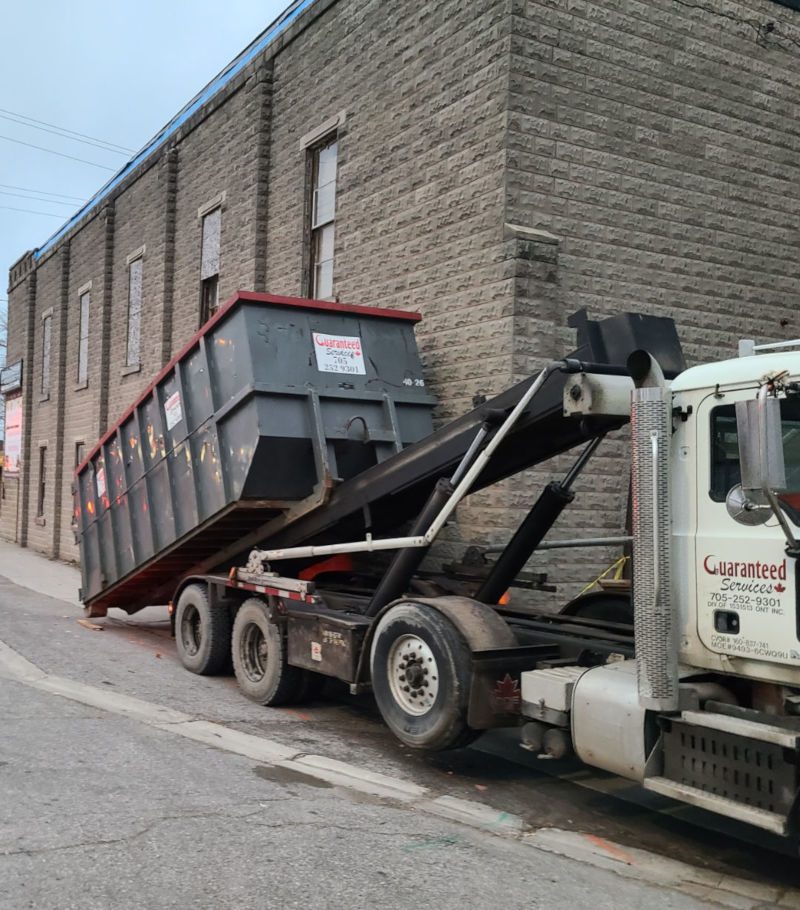 Anyone who's ever had to deal with waste removal on any type of site or  construction space will tell you that proper waste removal is absolutely essential to the well-being and proper function of that space. Whether you're hosting a one-off event or a series of events, you need a waste removal service you can trust. Renovation and construction often yield surprising amounts of waste, and home or business owners can be left suddenly without recourse when the waste piles up.
To this end, our team at Guaranteed Services offers a wide variety of sizes and capacities of open-top waste removal bins in order to fit all of our customers and potential customers' needs. We can deliver within the day to our service area in Barrie, ON. With professional waste removal, you can focus on the job at hand, never needing to halt work in order to take yet another load of trash, construction debris, or other waste to the dump.
This flexibility, speed of service, and understanding of our clients' varied needs is part of what sets us apart from our competition. Whether you're involved in a re-roofing project and only need the bin for the few hours you'll be putting material into the waste bin or if your remodeling an entire house and need the bin to stay in place for a lengthier period of time, we will work with you to make sure you have the waste removal capacity you need without compromising your work space, your schedule, or your budget.
FAQs About Our Waste Removal Services
Our team at Guaranteed Services specializes in waste removal, and we have extensive experience in helping construction and landscaping project managers deal with the waste materials generated in the course of their efforts. If you need waste removal services for your project, you can turn to our team to get the reliable results you need. Below, we have put together a few of our most frequently asked questions on the subject to give you more information.
What type of waste materials do you remove?
Our waste removal experts can help you remove just about any type of waste material you need to get rid of. We offer standard waste removal services to help you manage the everyday materials used in construction, and we can also provide specialized hauling services for hazardous materials, such as asbestos.
How do your waste removal services work?
We keep our waste removal services simple and straightforward. To get started, simply call our team and tell us about the scale of your project, so we can help you determine what size of container you need and whether you need multiple containers for your project. Then, all you need to do is set up a time for our team to deliver your waste containers, and finally, call us again when you are ready to have us remove them for you.
Why is waste removal important?
Effective waste management and removal processes are necessary for any construction or landscaping project. Our waste removal team will help you keep all waste materials safely contained, so they don't get in the way of your technicians and to make sure they don't create safety hazards.
---
At Guaranteed Services, we offer waste removal in Barrie, Innisfil, Elmvale, Midland, Angus, Orillia, Wasaga Beach, Midhurst, Coldwater, Shanty Bay, and Craighurst Ontario.