Our waste removal bins make the junk removal process in Barrie, ON easier than ever.
When you're working on a project, your garbage cans or the bins that you normally use on your property probably won't hold all of the materials you need to get rid of. If you're looking for junk removal services in the Barrie, Ontario area to make things a little easier, turn to us at Guaranteed Services.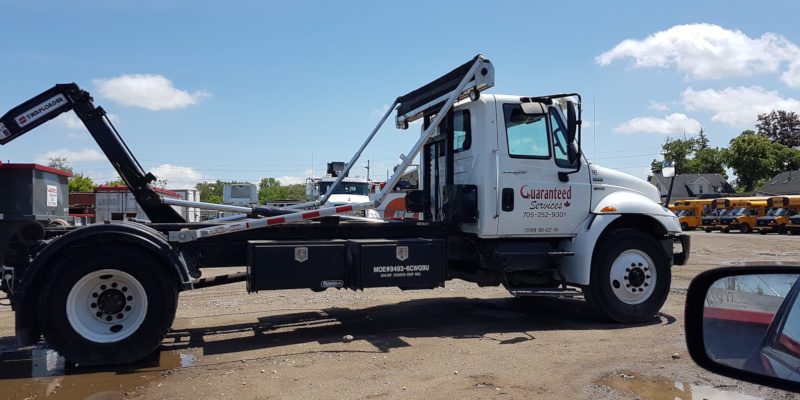 When it comes to junk removal, we realize that you're going to be focused on eliminating the junk from your property, instead of thinking about where all of the leftover materials will go. For this reason, when you work with us, we can drop off a waste removal bin at your property and pick it up when you're done.
Although having a waste removal bin to use during the junk removal process is highly beneficial, we realize that you may be worried about the bin damaging your property. To keep this from happening, we always place wood under the container's touch points. We will also work with you to determine the best spot for placement.
We appreciated the prompt response we received.
"The service was great, and your employees were very polite and helpful. We appreciated the prompt response we received when we phoned for pick-up and delivery of the bins."
★★★★★ Dianne M.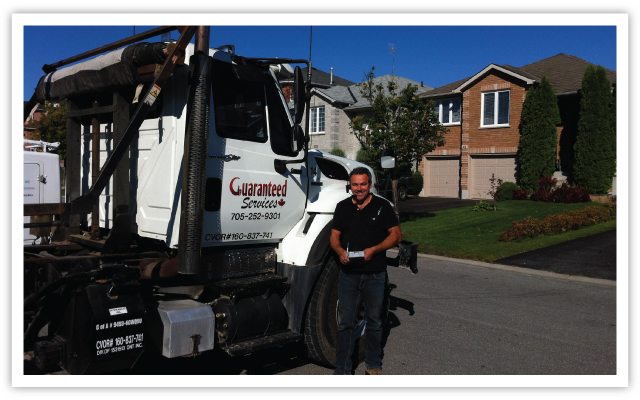 Roll Off Dumpster Delivery
Our roll-off dumpster delivery services are backed by over two decades of experience in the waste removal industry.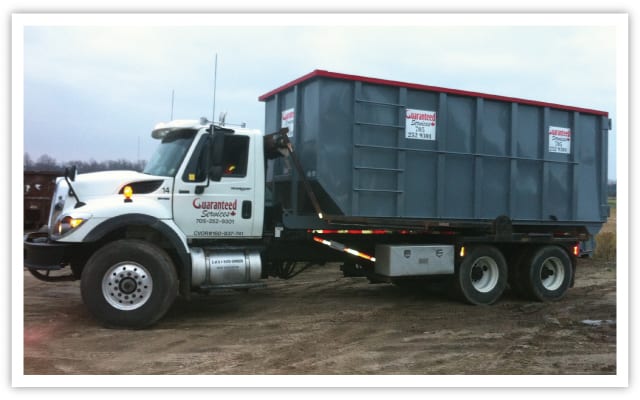 Construction Bins
If you need a few construction bins for your next project, we are here to help.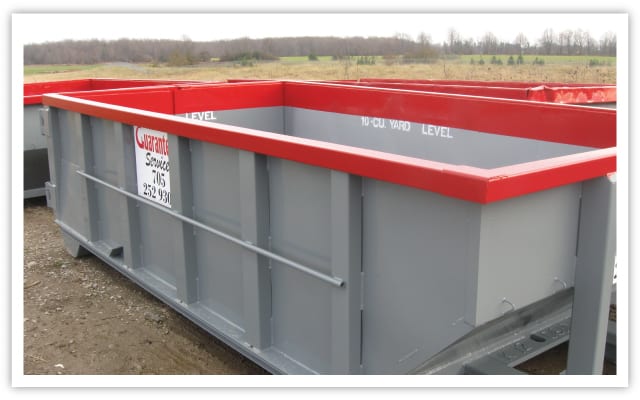 Landscaping Waste Bins
When you rent one of our landscaping waste bins, you can expect superior customer care.
We're here to help you keep your property neat and tidy with our junk removal services.
When you request a quote from us, make sure you include where you are located, the size of bin you need, what type of waste you plan to dispose of, and when you will need the container delivered. We will then respond to your request as soon as possible and help you get the junk removal process started. Remember, if you have any questions about our process, the sizes of our bins, or anything else, we are more than happy to help.
Contact us for more information.
---
At Guaranteed Services, we offer junk removal in Barrie, Innisfil, Elmvale, Midland, Angus, Orillia, Wasaga Beach, Midhurst, Coldwater, Shanty Bay, Stayner, and Craighurst Ontario.
Why Choose Guaranteed Services?
One of the main things that sets our waste removal services apart is the fact that we stand by our prices. When we provide you with a quote, we won't tack on environmental, fuel, and administrative fees later on. Plus, we're so confident that you will be happy with the quality of our services that we won't make you sign a contract.
See what some of our satisfied customers have to say about our mini bin rentals.
I used this company for a residential bin last month because I used them a couple of years ago, and it went well.Same this time.Bin arrived when I asked and left when I asked.Had to make an additional call to get my invoice sent to me, but no big deal.
Everyone I spoke with was great, helpful. I appreciated the flexibility and would recommend this company. I would not hesitate to order from them again.
Wow, these guys are on top of their game. I called for a bin, they were there very quickly and the delivery guy and pick up guy were excellent professionals. I will be calling this company again. Good job.
I've been hiring this company since it started, and Marty for several years before that. Their service is fantastic, and the prices are always competitive.
The customer service is very good, They solve problems quickly.and the price is very suitable. You have to deposit first,they will give you the invoice after pickup the bin, I get a refund in two days,recommend
Ordered a 40 yard bin for a renovation on my home. Smooth easy process and no hidden fees. Easy to schedule, arrived and picked up on time. Best pricing around. Would definitely recommend and will use again.
Highly recommend! We will definitely use these guys again. Really couldn't be happier with the service, price, communication. Overall a great company to deal with:)
We use Marty nearly every month for our clients demos !Always reliable & reasonably pricedWould highly recommend !- Behold Design
I've used guaranteed services twice and thought both times they were professional, on time, and put wood under the bin to protect our driveway. Were punctual picking up the bin and prices seemed fair. If you're looking for a bin these are your guys!
Our Bin Rentals Can Help You Declutter
Similar Services We Offer: