Easy Cleanup — Is it Really Possible?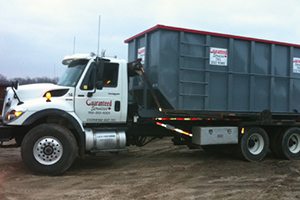 If you're working on a renovation project in your home, all of the mess and clutter can make it feel a little bit like a war zone. The home-renovation shows on TV skim over the insane amount of junk that can build up, often with no place to go. If your garbage bins are at capacity, consider our dumpster rental service to help get the junk out of your home (and off of your mind).
At Guaranteed Services, we help you make cleanup easy in the Wasaga Beach, Ontario area. With our dumpster rental service, you have an onsite solution to clear away the clutter and debris — and we know that is the primary source of headaches during home renovation projects!
Having a convenient place to throw away waste on your property is the best approach for streamlining the cleanup process. Knowing that our team at Guaranteed Services will pick up the dumpster and dispose of the waste at the end of your dumper rental service period is just the cherry on top!
We've tried to make this process as easy as possible for you. Once we determine the size you need and how long you need it for, we set up a time to drop off the dumpster at your Wasaga Beach property, carefully placing it on a spot you designate. Once your service period is up – or the dumpster is full – call us to schedule a pick-up time, and we'll handle the rest!
At Guaranteed Services, we pride ourselves on our commitment to superior service. If you're ready to make cleanup easier than ever before, get in touch with us at Guaranteed Services today!
---
At Guaranteed Services, we offer a dumpster rental service in Barrie, Innisfil, Collingwood, Orillia, Wasaga Beach, Angus, Stayner, Shanty Bay, Midland, Elmvale, and Midhurst, Ontario.