Garbage bin rentals are a lifesaver when it comes to home improvement projects in Innisfil.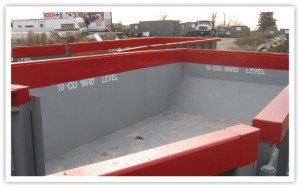 In the age of DIY home remodel projects, garbage bin rentals can be a huge lifesaver. Home remodeling projects or any construction projects tend to create a lot of waste as old materials are thrown out to be replaced. Your typical weekly trash service is not equipped to handle this amount of waste from one home, so when you have a construction project, you need to have a more efficient way to get rid of the waste. At Guaranteed Services, we offer garbage bin rentals to help make waste removal convenient, so you don't have to give it a second thought for the duration of your project.
When you rent a garbage bin from us, we will ask you to select the size of bin you think you will need for your project. If you're unsure, ask us, and we will be able to give you a recommendation. We will then deliver your garbage bin on the day you requested and haul it away with all of the waste it contains when you are done with it. It's simple and hassle-free for you!
At Guaranteed Services, we are an honest, reliable company for garbage bin rentals. Other companies may hit you with hidden costs like environmental or service fees in addition to your quoted price. Our price includes all the fees you may encounter upfront, so you know what you're spending before you rent from us. Our competitive pricing is one reason residents of Innisfil, Ontario prefer us for their garbage bin rentals.
We are eager to help you with your waste removal during your next remodeling project. Give us a call for a quote on garbage bin rentals today!
Common questions about our garbage bin rentals.
Here at Guaranteed Services, we've made it our business to make managing the waste from a household or construction project simple. We understand that many of our customers have questions about our services and bins, so we've compiled this list of frequently asked questions to help you find the answers you need.
How do I know if I need a garbage bin rental?
If you think a project will produce more waste than what you can fit in your garbage cans, it's worthwhile to schedule a garbage bin rental to make the disposal process quick and easy. Our bins come in a wide range of sizes, and we can help you determine which would be best suited to handle your specific project.
What can I put in my garbage bin rental?
Most items made of wood, plastic, or metal are safe to put in our garbage bins. Roofing materials, siding, brick, dirt, furniture, and yard waste are also acceptable, but if you need to dispose of hazardous waste or chemicals, you will need a special container. Our experts can help you figure out if you need a special container for your waste.
Do you offer long-term rentals or weekly services?
Our garbage bin rentals are intended for short-term use, generally around 1 week, and are ideal for when you are doing renovations, landscaping, attic or basement clean-outs, or other such projects. We do not offer weekly services or routine trash pick-ups.
What do I need to do to prepare for a garbage bin rental?
After you have scheduled a drop-off, the main thing you need to do is ensure that the area is clear and easily accessible for our truck to drop the bin off. If you have limited parking or are in a neighbourhood, you may want to inform your neighbours that we will be coming as a courtesy to them. On the delivery and pick-up days, it's generally best to keep pets and children inside while we are there.