Our mini bin rentals are ideal for small business projects, minor remodeling, and roofing projects in Barrie, ON.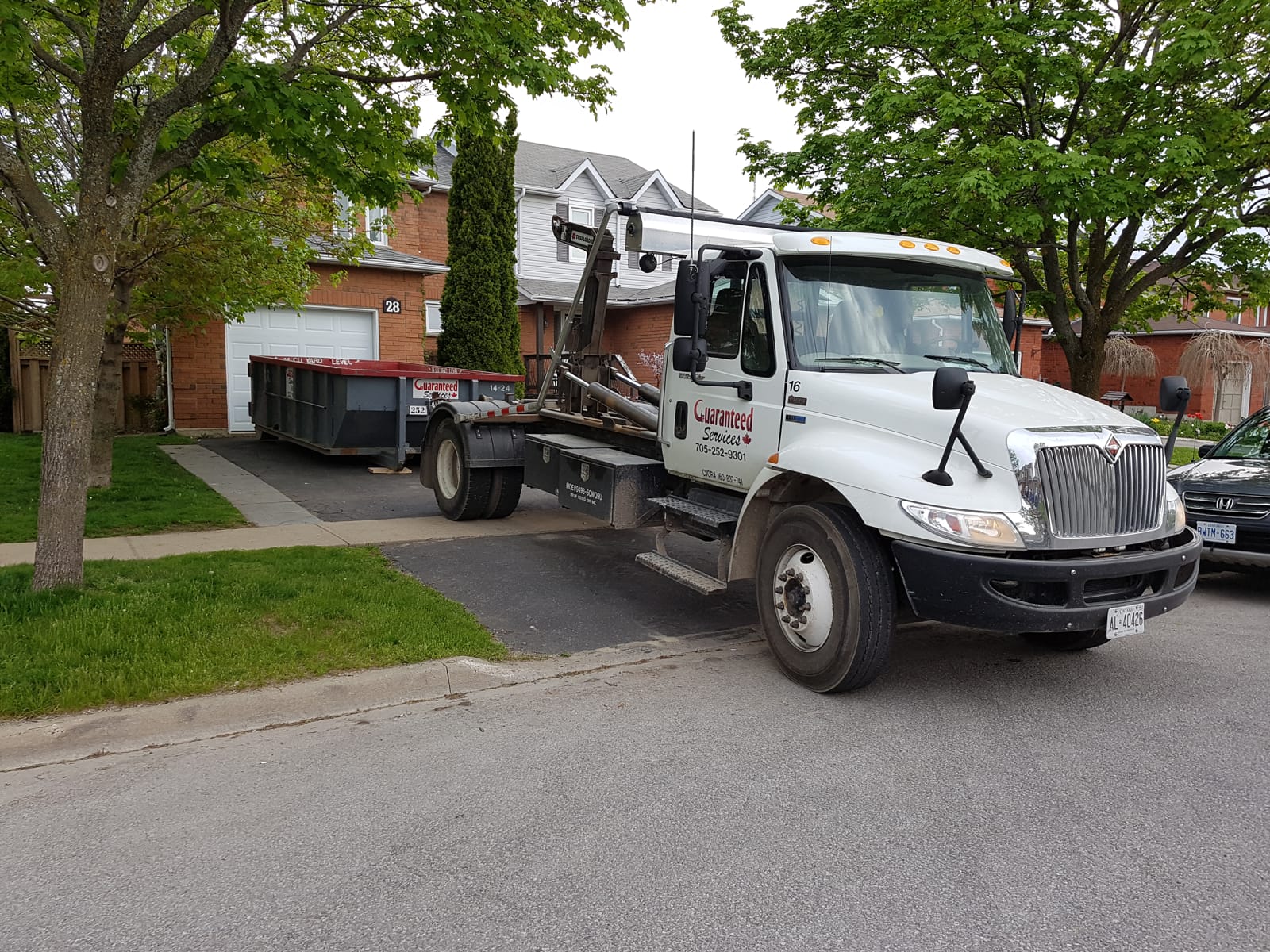 Sometimes, you need more room to dispose of waste than your property's trash cans will hold. However, even though you need more space, you might not need a large dumpster for your upcoming project. If you find yourself in a similar situation, let us at Guaranteed Services provide you with one of our mini bin rentals in Barrie, Ontario.
Our mini bin rentals are ideal for small business projects, minor remodeling, and roofing projects. If you aren't sure whether you can get away with a smaller bin rental for your project, or if you need a larger dumpster, we would be more than willing to provide you with guidance. We do this to ensure that you are 100% happy renting a waste container from us.
Even though our mini bin rentals are smaller than the dumpsters we generally deliver and pick up, we will still place the bin and remove it from your property after you're done with it. Additionally, when you reserve one of our mini bin rentals, we will show up at your location on time and place wood under the bin's touch points to ensure that your lot or driveway does not incur damage.
*Please note that deposits are required when placing an order based on bin size and material. We may also require a confirmation email stating authorization for processing a credit card if you are not present for a signature.
Projects Ideal for Mini Bin Rentals
At Guaranteed Services, we know that there are many different situations in which our Barrie, Ontario customers can find our mini bin rentals an ideal solution. While any project that would quickly fill your available trash cans and leave you waiting for collection day so that you can continue working makes mini bin rentals a great idea, here are a few that our customers have been involved in that you can also consider.
Garage Clean-out– Over time, your home's garage can collect quite a bit of unused, unwanted items. If you've been struggling with getting your vehicles inside or even gave up on that possibility, consider our mini bin rentals to make cleaning it out a one-day project instead of taking several weekends to do.
Moving to Downsize– It is becoming a popular option to downsize to a smaller home to reduce costs, leaving the budget more conducive to family activities, vacations, and other financial goals. While you can manage to sell or donate most extra belongings, in the end, you may reach a point where you have plenty to dispose of. You have too much on your plate to make countless trips to the landfill, so consider our mini bin rentals instead.
Renovations– Remodeling and renovations involve a lot of demolition debris, construction scraps, and other materials you need to get out of your way to be able to efficiently complete the project. As a DIYer, you need a reliable way to keep your home free of debris so you can keep the progress on track, and mini bin rentals fit that need perfectly.
Reno coming up? We'll drop your mini bin
A roll-off bin rental might just be the solution you're looking for!
We offer delivery & pick-up!
Very professional.
"I was very happy with the quick service that was provided. Very professional, and the driver was very nice."
★★★★★ Sarah B.
Please keep in mind that our rental services do include disposal, but we will not deal with hazardous materials that could create a health risk or harm other people or the environment. To make a reservation or to find out more about the sizes of our mini bin rentals, contact us at Guaranteed Services today.
---
At Guaranteed Services, we offer mini bin rentals in Barrie, Innisfil, Elmvale, Midland, Angus, Orillia, Wasaga Beach, Midhurst, Coldwater, Shanty Bay, Stayner, and Craighurst Ontario.