We are your reliable source for waste bin rentals in Barrie, ON.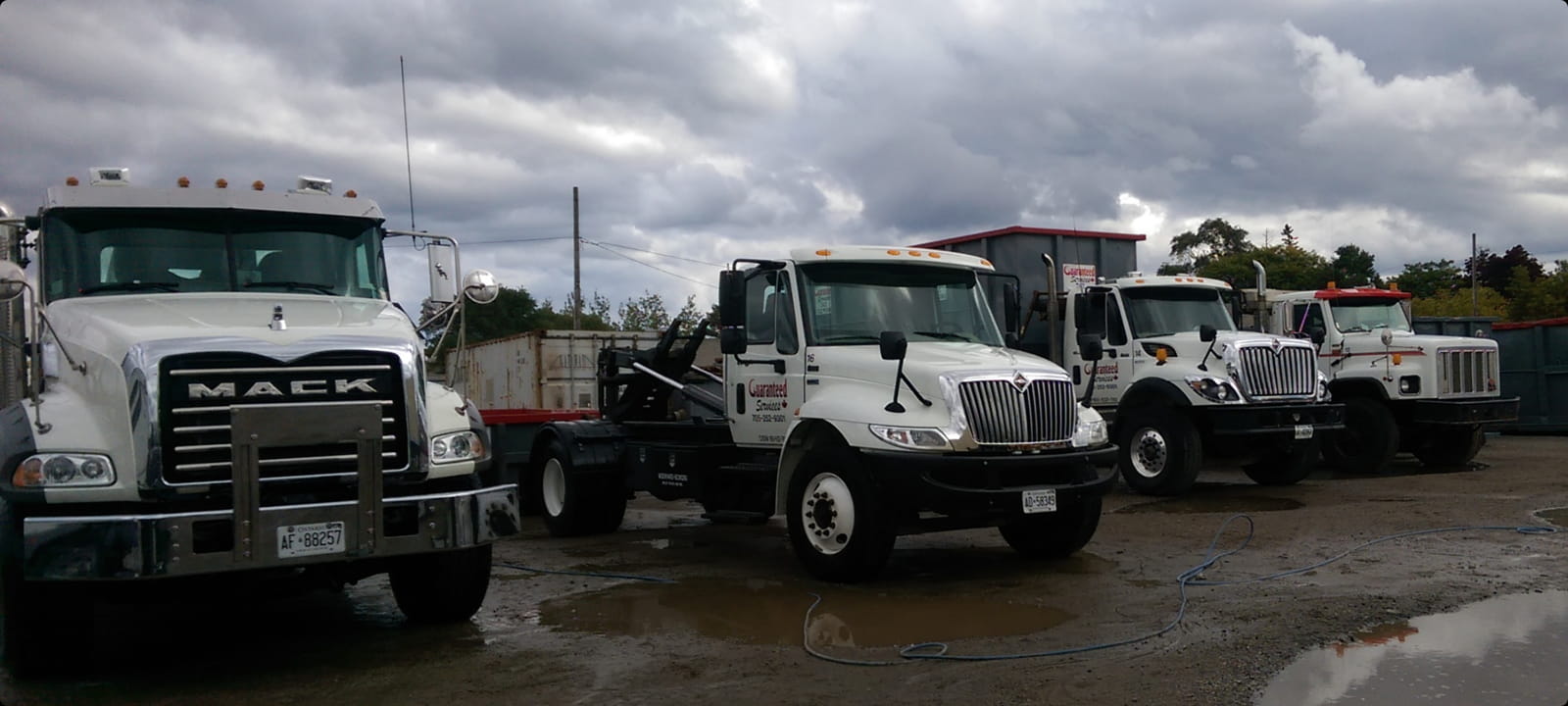 As a construction company owner or manager, you may be looking for a solution to your construction waste problem. For many construction companies, finding a reliable source for waste bin rentals isn't always easy. At Guaranteed Services, we offer waste bin rentals in Barrie, ON. Our team of professionals will do all the heavy lifting to bring and take away the bin, so you can focus on the project instead of waste disposal.
You can choose from waste containers of various sizes and keep your waste bin on the property as long as you need it. Once you are finished with it, our team will come back and remove it, taking the trash along with the container for proper disposal.
When you work with other companies, you may find that your price is much higher than expected when they add on environmental fees, fuel, and other administrative costs to the pick-up and drop-off service. At Guaranteed Services, we don't add on these costs and will offer you reasonable pricing that is clear and straightforward, so you know what to expect. Our company charges based only on the size of the container needed and how long it will be on the property, so you will only pay for what you need.
Why We're Your Best Choice for Waste Bin Rentals
At Guaranteed Services, we know you have other options in Barrie, Ontario for waste bin rentals, but we also know that we are your best choice. Yes, we know most businesses will claim to be the best, but few strive to fit their customers' needs quite the way that we do. We like to put you in control of your waste disposal needs because you best understand what you want to accomplish. Here are a few reasons why we are confident that once you learn more about us, you'll agree that our waste bin rentals are the way to go.
Flexibility– Why pay for more than you need? We don't believe you should be saddled with a minimum rental period that could be many days longer than you need or want to have waste bins on your property. We also know that needs can change and while you may start out thinking a day or two of waste bin rentals is enough, any manner of circumstances could leave you needing additional time. We can also arrange to pick up your bin and drop an empty one if needed. Sometimes it is hard to predict how much refuse your project will generate.
Pricing- Nobody needs hidden charges! While we all face them on everything from new car purchases to cell phone plans, we can assure you our rental fees are transparent. As long as you let us know what you're filling the bin with when we provide a quote and that checks out, our pricing is based on a 6-night rental so you have time. Just give us a call when you're ready for us to pick up your bin, and we'll schedule removal or replacement of an empty bin ASAP! We'll let you know promptly what your tipping fee is when we're ready to process your payment and will deduct your deposit proactively. We DON'T tack on fuel, administrative, or environmental surcharges to the cost of your rental.
Respect– We've heard horror stories of waste bins being unceremoniously dumped on a property, damaging landscaping, driveways, sidewalks, and even buildings in the process– not to mention other companies that dump fill illegally and cause damage to our environment. Rest assured that our delivery drivers are well-trained in how to place our waste bins carefully, and we'll show complete respect for you, your property, and our local area.
Moving or cleaning out? Schedule your waste bin
Not Sure What Can Go in a Construction Bin? This Will Help!
Look at Some of Our Bins and the Way We Transport Them for You
Great company. Polite and prompt.
"Great company to deal with. I got a quick reply to my quote request. Delivered on time. Polite driver put the bin on wooden blocks exactly where I wanted it. Picked up promptly and price was great!"
★★★★★ Em F. Google Review
If you would like more information about waste bin rentals and options, contact us today. You may be surprised to find that even with our excellent terms and service, you can certainly afford to rent from us.
---
At Guaranteed Services, we offer waste bin rentals in Barrie, Innisfil, Elmvale, Midland, Angus, Orillia, Wasaga Beach, Midhurst, Coldwater, Shanty Bay, Stayner, Elmvale, Midland, and Craighurst Ontario.