We offer high-quality front-load bins for all your waste disposal needs.
If you are planning to renovate your home, build a new structure, re-do your landscaping, or even downsize your household, you will need to figure out a way to deal with all the waste material and junk your project will generate. Your standard household garbage bin will be nowhere near large enough to hold the amount of trash associated with these kinds of large-scale efforts. Fortunately, our team at Guaranteed Services can provide much larger front-load bins with plenty of room for all your waste material.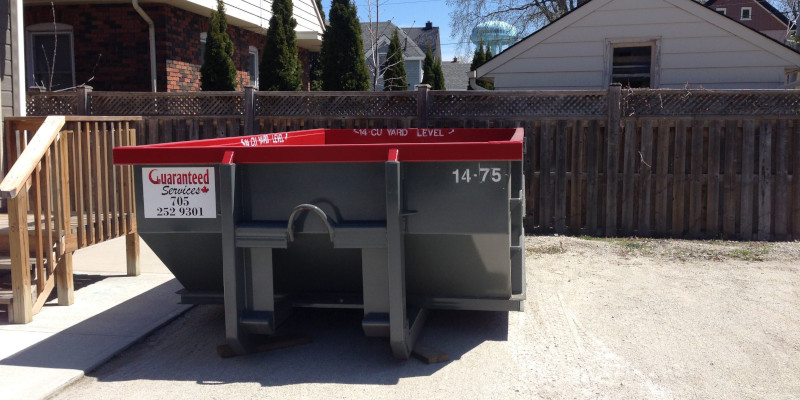 We have been working in the waste disposal industry for many years, and you can count on us to find the solutions you need. Our team offers a range of high-quality waste containers, including front-load bins, and you can count on us to help you determine which option is best for your needs.
All you need to do is give us a call and tell us a little about your project, and then we'll choose the ideal container for you. Next, you can simply choose a date for us to deliver the container to your home or worksite, and we'll get everything set up. Finally, when you are finished with the project, just call us again to have our crew members come pick up the containers and dispose of their contents.
Our team is proud to serve the community in Barrie, Ontario, and we want to help you with your waste disposal needs. If you need front-load bins for your next project, just give us a call to find out how we can help you.
Front-Load Bins FAQs
A front-load bin is a great resource for people who need a way to manage the waste from a household or construction project that will produce more trash than what their regular waste-management company will handle. Here are a few of the questions we get asked regularly here at Guaranteed Services, along with their answers.
How large are the different front-load bins?
The first thing to understand is that front-load bins are sized by cubic yard. Our bins come in 10, 14, 20, and 40-yard sizes. 10-yard bins can typically hold the equivalent of 50-60 thirteen-gallon trash bags and are great for smaller projects like yard cleanups and minor renovations. 14-yard bins can hold about 80-90 thirteen-gallon trash bags and are good for mid-sized household projects or renovations. 20-yard bins are better for large jobs, as they can hold around 100-130 thirty-three-gallon contractor garbage bags or the equivalent of roughly 6 pickup truck loads of material. Our 40-yard bins are designed for large construction projects and can hold roughly 200-250 thirty-three-gallon contractor bags worth of refuse.
What can I put in a front-load bin?
Most household waste can be put in a front load bin, as well as materials from renovations, including drywall, lumber, scrap metal, and carpet or flooring. Cardboard, paper, plastics, metal, and wood are all safe, but any hazardous materials or chemicals should be disposed of in specialized containers.
How often do I need to empty a front-load bin?
This depends entirely on how you are using it. Our bins are great as short-term rentals, generally for projects lasting between 4-5 days to a week. We do not provide long-term rentals or regular services for restaurants or businesses seeking weekly services.