We do everything in our power to keep the rates on our bin rentals in Barrie, ON competitive.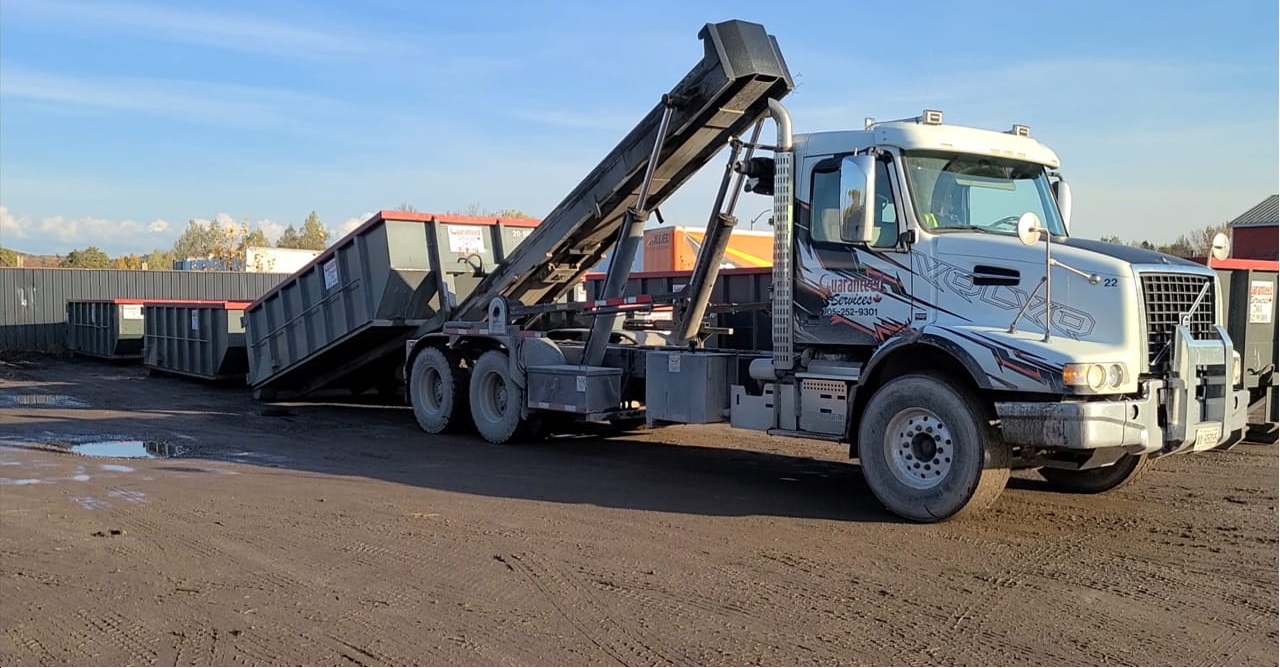 When you work on a construction, renovation, or property cleanup project, you're going to have a lot of waste that needs to go somewhere. To ensure that your project goes smoothly, at Guaranteed Services, we encourage you to take advantage of our bin rentals. We provide bins in a variety of different sizes and are committed to meeting your specific needs.
When you reserve one of our bin rentals in Barrie, Ontario, we will make arrangements with you to meet with one of our delivery drivers to place the bin in the right place and to take care of the payment process. Then, we will place the bin on your property, make sure that everything is secure, and come back later when you want the bin to be picked up. It really is that easy!
Unique Situations for Bin Rentals
Here at Guaranteed Services, we have helped all sorts of customers with bin rentals as the solution to their unique situations. While bin rentals are ideal for construction site cleanup, there are plenty of other ways having a bin on hand can be helpful, too. Here are a few unique situations that are perfect for our bin rentals.
Estate Cleanup- Handling the distribution and disposal of furniture and other belongings when settling an estate can be a long, arduous process. Once you've gotten all the useful items off to their intended heirs, sold, or otherwise liquidated, what remains can be more voluminous than you might have expected. Bin rentals can take care of it all without dealing with several pickup truck loads to the landfill.
Vacated Tenant- Most tenants take all their belongings with them when they move, but there can be situations in which they do not. If a tenant has left you with an apartment or house full of things with little to no value and has relinquished all rights, you are probably looking for the quickest, most efficient way to get the dwelling ready for the next tenant. Our bin rentals come to the rescue!
Downsizing- There is a huge movement to ditch the 2,000-square-foot home and downsize to a tiny home, but that can leave you with far too many things to sell, donate, and give away. Instead of taking months to deal with it all, call us about bin rentals and toss it all out. You don't need it, so why not?
Provider of Roll-Off Bins for Your Commercial & Residential Projects
Is a roll-off bin right for your project?
Our roll-off bins are available throughout Barrie and surrounding areas.
Prices were by far the best I could find
"Your bin was delivered and picked up in a timely fashion, and your prices were by far the best I could find."
★★★★★ Anonymous
Please keep in mind that the prices for our bin rentals are based on several different factors, such as:
Where your bin will be delivered
The type of material you plan to dispose
The size of the container you rent
We do everything we can to make sure the rates on our bin rentals are competitive. For this reason, we won't add administrative, environmental, or fuel costs to the total price after giving you a quote. If you want to know more about our rental process and the sizes of our bin rentals, please reach out to us at Guaranteed Services today. We are eager to earn your business and look forward to exceeding your expectations.
---
At Guaranteed Services, we offer bin rentals in Barrie, Innisfil, Collingwood, Orillia, Wasaga Beach, Angus, Elmvale, Stayner, Midland, Shanty Bay, and Midhurst, Ontario.
Similar Services We Offer: