We take pride in delivering high-quality front-load bins to each of our valued clients.
When you need an extra place to keep waste, our team at Guaranteed Services has you covered. We work with clients located in and around Angus, Ontario to provide a range of bin rentals in various sizes and styles.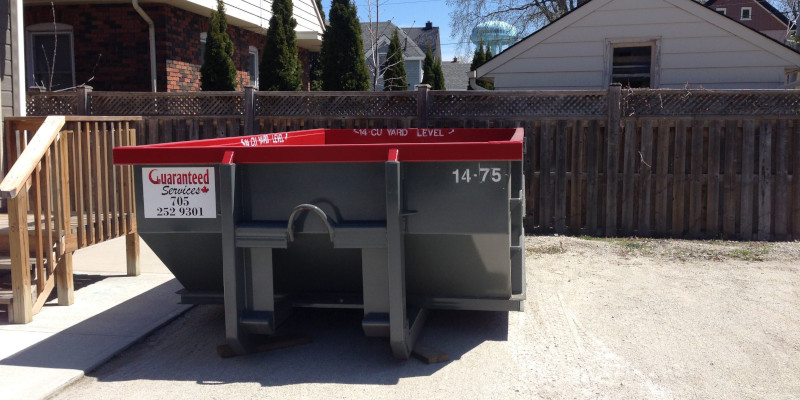 One popular type that our clients often choose is a front-load bin, which is a larger option that can hold a substantial amount of waste. Our front-load bins come in different sizes, ensuring that we have something that can accommodate your needs. Whether you're planning a renovation project at your home or looking for a partner for construction site waste needs, we can take care of whatever may arise.
With years of experience in the waste disposal industry, we're among the top-rated companies in the area. We take pride in delivering high-quality front-load bins to each of our valued clients. When the need arises, the first step is reaching out to us and telling our team members a bit about your project. This initial call allows us to learn more about your needs and how we can support them with a properly sized waste storage container. If we determine that one of our front-load bins is best for your needs, we'll provide you with cost information for this style of bin. From there, you'll choose a delivery date, and we'll take care of the rest.
One of the biggest advantages of working with us is our ability to handle all the steps in the process. Our helpful technicians deliver the front-load bins to designated locations and pick them up to dispose of the contents. Just contact us to learn more!
---
At Guaranteed Services, we offer rentals of front-load bins in Barrie, Innisfil, Collingwood, Orillia, Wasaga Beach, Angus, Shanty Bay, Stayner, Elmvale, Midland, and Midhurst, Ontario.
Similar Services We Offer: